The Carrabelle Airport was built during WWII in 1943 by the United States Army Air Corps as an auxiliary landing field then known as Carrabelle Flight Strip. It is now a public airport providing general aviation service.
Airport use:  open to the public
Runway: 05/23 (4,000' x 75' asphalt in good condition)
Lighting: ACTVT MIRL RY 05/23 AND PAPI RYS 05 & 23 – CTAF
CTAF: 122.9
Elevation:  20ft
FAA Identifier:  X13
Parking: Hangers and tie-downs
Wx ASOS: at AAF (18nm W) 119.925 (850-653-8271)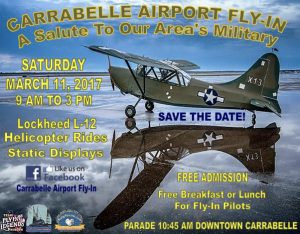 Carrabelle Airport Fly-In
Saturday, March 11, 2017
A family fun day filled with war bird displays, military tributes, helicopter rides, entertainment and food.
Click here for details.
Resources:
Contact
Carrabelle Aviation Advisory Board
317 Airport Road
Carrabelle, Florida 32322
850-697-2339
Caabx13@gmail.com